Economic Crisis Declared in Haiti!
Latest news from Haiti:
The president of Haiti has declared a state of economic crisis. The local currency is losing value at an alarming rate. Large wholesale stores as well as local stores and bakeries have closed because they cannot continue to operate at such a large deficit. Prices of basics such as rice and oil have doubled in the past few months. People are very afraid. Demands for overthrow of the government are again growing. Your financial and prayer support are needed more than ever. Click this link to support our general fund as we work to support the work in Haiti. 
 You can help today by donating to our General Fund.  Click on the DONATE button above if you are on our website; if you are on            a cell phone, tablet, or some other device, you will see three blue lines in the upper right hand corner of this page.                                                        Click them and scroll down to the Donate section and click the word "Donations." 
  Our mailing address is VOHM, BOX 98, Three Lakes WI 54562.  Thank you!
A Letter from VOHM Missionary, Pastor Henoc Lucien,
Dear friends in the Lord,
Grace and Peace to you from our Lord Jesus Christ.
She sat in the school bus, confused and not knowing what life will bring her. I met her on the campus of the College Susan Schuenke in September 2005, three years after the founding of the school. She was only 11 and going into 7th grade. Hopelessness filled her eyes and the driver told me that she slept every day on the way to school and in the afternoon when she goes home. Speaking to this little girl, I could see her sense of beauty and innocence. She reminded me of my own daughter Abigail who is the same age. I can remember our first conversation. I told her that she looked like my daughter and I showed her Abby's picture. I was surprised t
hat she and Abby were born two days apart. After meeting her mother, I could understand what she was going through, the misery, the betrayal of her father who moved away from the house, the uncertainty of life. God inspired me to buy her lunch everyday and I try to do my best to assist her mom through our VOHM deacon's funds.
By December of that same year, Asseline came to spend Christmas break with our family. After Christmas, she refused to go back home. She became part of our family. We soon realized how intelligent she was when she became valedictorian of her class at CSS. Guerline and I decided to pay for her to go to school in Santiago, DR. Asseline has been studying medicine at UTESA in the DR. She is in the process of completing her coursework in medicine. In January, she will start her one year internship before graduation from medical school.
In spite of all the difficulties we encounter in ministries in Haiti, this kind of situation encourages us to go forward in reaching people for Christ. This is the kind of cultural transformation we are looking for through the preaching of the Gospel.
We praise God for continued development in the different ministries that we have started in Northern Haiti. The church in Cap-Haitien continues to grow. Many people are being discipled. Carl Andrew Etienne was born in the church. He spent his whole life in the church and studying at the College Susan Schuenke from Kindergaten through High School. Carl is in his third year of College at the Université Chrétienne du Nord d"Haiti, a Baptist school. He just completed an internship at Honey Rock in Wisconsin.. Over 30 new believers are committed to being baptized on December 31st.
The church in Grande Rivière du Nord is being led by Pastor Tholem Mesadieu, an original member of the church whom we sponsored to go to Bible school. One of the great joy of our ministry is seeing leadership being developed as churches are getting their own pastors. After several ;years of conversion, members of the churches are taking on leadership role. Through it all, College Susan Schuenke remain a beacon in Northern Haiti, transforming a new generation of Haitian leaders.
Thank you for your support that enables us to pursue this noble task. Please continue to pray
1. for peace and political stability in Haiti
2. for spiritual strength of our family
3. for continued transformation in the churches in the community
4. for our need of a dependable vehicle. Our truck has had engine problem and not running for the past two months
May the Lord continue to bless you during this year end and receive our Seasons' greetings.
Soli Deo Gloria
Pastor Henoc Lucien and family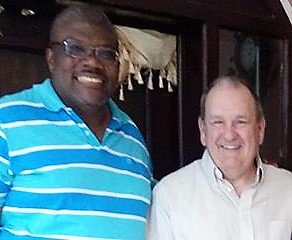 A Letter from VOHM President, Greg Schuenke-
Vision of Hope Ministries was founded in 1998. We have been serving our Lord in Northern Haiti for 20 years! We have grown in that time and I would like to give you a high level overview of what our Lord has done through the service of Haitian pastors and lay leaders in Haiti. I remember driving into Cap Haitian with Pastor Henoc Lucien, our Senior missionary, in the late 90's. One man called by God to begin a new work in his country. From that humble Bible study in a rented school, this is what has been accomplished:
-we have four EFCA churches that are healthy and growing. Haitian men and women coming to faith moving away from voudou, cohabitation and to marriage in Christ. There are over 2150 men, women and children who worship each Sunday in our congregations.
-College Susan Schuenke, our K-12 Christian school, has over 1200 students who are graduating with a Christian world view, going on to higher education and returning to Haiti. They are the generation who will change this country.
– Cross International donated fortified rice for our nutrition program. We mixed this fortified rice into our lunches from February to May and saw a huge increase in academic performance. Many of our children are malnourished and good food makes a big difference.
-Orphanage: we are raising 15 children in faith who Pastor Henoc and Guerline rescued from the 2008 Gonaives hurricane disaster. We support these kids in our secondary school and as they graduate on to college.
-Our solar water pumping and purification system in Berard has delivered over 7 million gallons of free water to the community since 2010. We are expanding the plant to pump more water which we will sell to employ Haitians and cover ministry operating costs.
I end with this story: in 2016 the leadership of our Cap Haitian EFC church decided they would take an offering to help their fellow Haitian's in Les Cayes after Hurricane Mathew devastated southern Haiti. This congregation raised thousands and went to help their brothers and sisters. This is the fruit of our work. Love gives and helps. I usually give you a financial report in my letter but this year I am simply sharing with you that we are asking for your faithful and continuing prayer for the people who serve and for the ability of our board to provide the financial support and oversight so that this work for Christ and His kingdom will flourish. Please pray, our support base is falling far short we need about $30,000 by year end to make up our shortfall. Thank you for remembering the least of these in Haiti. Greg Schuenke President VOHM, Inc.
"Transforming lives through the Gospel, empowering the next generation of Haitians with a high-quality education and a Christian world view in order to break a cycle of dependence which will change Haiti for Christ and His Kingdom."